IAG was the first aviation group in the world to commit to net zero emissions and has been publishing its latest roadmap to this goal every year since 2019.

IAG invests in innovation to meet its targets, drive decarbonisation and accelerate wider change towards a more sustainable industry.
IAG roadmap to net zero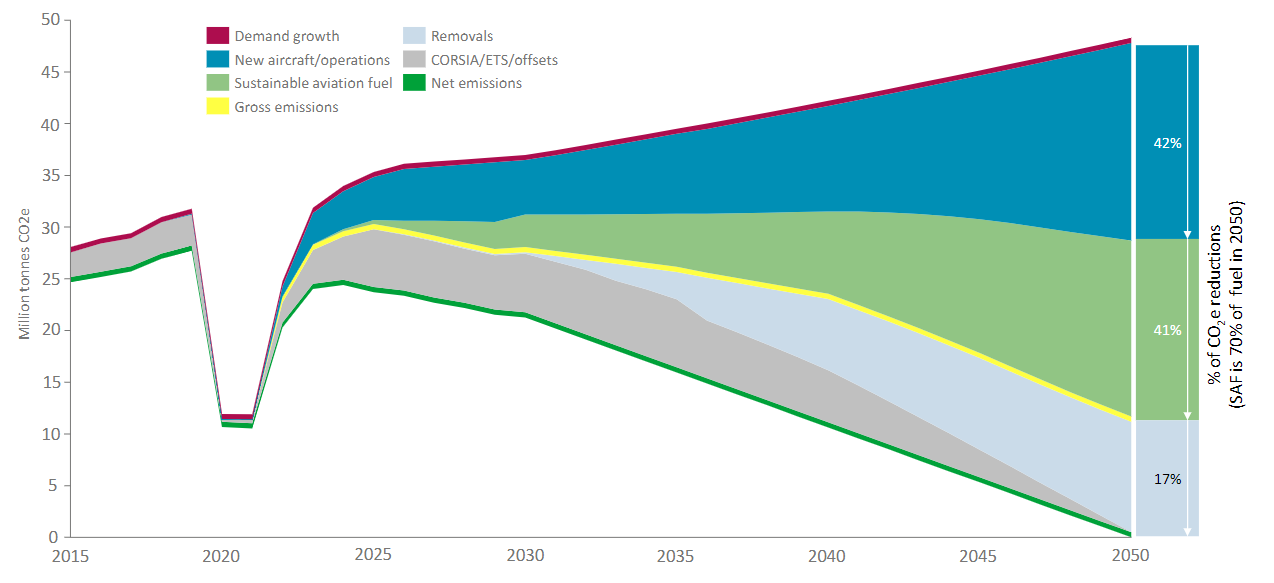 Pillars of our carbon roadmap
New generation aircraft consume between 15-40% less fuel than their predecessors. 
IAG is supporting the implementation of fuel efficiency initiatives across its all network. 
€13.5 billion investment for new aircraft from 2023-2030.
192 new efficient aircraft.
SAF cuts emissions by as much as 80% compared to traditional fuels, from a lifecycle analysis perspective. 
IAG has committed US$865 million towards purchases and investments.
IAG was the first aviation group to commit to a SAF target 10% by 2030.
Carbon removal solutions extract CO₂ already in the atmosphere and store it in biological or geological ways. 
From 2050, IAG will only use carbon removal to mitigate any residual emissions from its operations.
IAG airlines have participated in market-based measures since 2012, when the EU Emissions Trading System was extended to aviation.  
IAG airlines are participants of the EU, UK and Swiss ETS schemes; and support the global CORSIA scheme to limit net emissions from aviation. 
Less than 10% of emission reductions to our 2050 net zero target will come from using offsets.
Key events in our roadmap
2019
1st
IAG is the first aviation group to commit to net zero emissions.
2019
IAG launches the 2050 roadmap
2025
'5 by 2025' waste targets
IAG's '5 by 2025' plan covers five waste streams and five business units, with waste reduction and recycling targets across on-board, office, cargo and maintenance waste and a zero-based approach to single-use plastic (SUP). Our targets are to: Reduce on-board waste per passenger by 20% Reduce office waste per full-time employee by 50% Reduce maintenance waste per unit of activity by 25% Reduce cargo waste per unit of cargo carried by 25% Zero use of Single Use Plastics (SUP)
2030
2030 emissions milestone
By 2030, IAG aims to reduce gross emissions by 15% over our 2019 baseline, and reduce emissions intensity by 27% over our 2019 baseline.
2030
10% SAF by 2030
IAG is the first European airline group to commit to a 2030 SAF target. In 2021, the Group set a target of using one million tonnes of SAF a year by 2030.
2035
2035 emissions milestone
By 2035, IAG aims to reduce emissions intensity by 39% over our 2019 baseline
2050
Net Zero emissions by 2050
IAG is targeting net zero emissions by 2050 across its Scope 1, 2, and 3 emissions.