The following consensus for International Consolidated Airlines Group, S.A. (IAG) was updated on 17 July 2023.

This consensus reflects analyst expectations received between 10 July and 17 July 2023.

For enquiries please email: [email protected]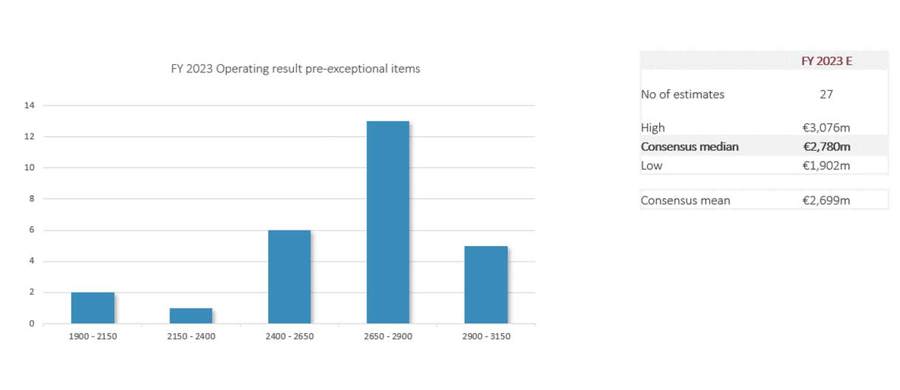 Analysts
Alphavalue 
Yi Zhong  

 

AIR Control Tower 
Neil Glynn 

 

Banco Sabadell 
Rafael Bonardell

 

Banco Santander
Eduardo Gonzalez

 

Bank of America  
Muneeba Kayani

 

Bankinter 
Pilar Aranda

 

Barclays 

Andrew Lobbenberg

 

Bernstein 
Alexander Irving 

 

Bestinver 
Beatriz Rodríguez

 

CaixaBank BPI 
Guilherme Macedo

 

Citi 
Sathish Sivakumar 

Davy Stockbrokers

Stephen Furlong

 

Deutsche Bank 
Jaime Rowbotham

 

Exane BNP Paribas 
James Hollins   

 

Goldman Sachs* 
Patrick Creuset

 

Goodbody 
Mark Simpson

 

GVC Gaesco Beka 
Jaime Pallares Garcia

 

HSBC 
Achal Kumar

 

Intermoney Valores 
Julian Perez Solana

 

JB Capital Markets 
Miguel González

 

JP Morgan 
Harry Gowers

 

Liberum 
Gerald Khoo

 

Mirabaud Securities 
Sonia Ruiz de Garibay

 

Morgan Stanley* 
Conor Dwyer

 

Oddo Securities 
Olfa Taamallah 

 

Peel Hunt 
Alexander Paterson

 

Raymond James 
Savi Syth

 

Redburn Partners
James Goodall

 

Renta4 
Ivan San Felix

 

Stifel 
Johannes Braun

 

UBS 
Jarrod Castle

 

*Act as corporate brokers

International Consolidated Airlines Group SA is followed by the analysts listed above. Please note that any opinions, estimates or forecasts regarding International Consolidated Airlines Group SA's performance made by these analysts are theirs alone and do not represent opinions, forecasts or predictions of International Consolidated Airlines Group SA or its management. International Consolidated Airlines Group SA does not by its reference above or distribution imply its endorsement of or concurrence with such information, conclusions or recommendations.
Disclaimer

The consensus has been collated from estimates submitted by analysts to IAG using a standard template. The information is provided purely for convenience to users of our website, for information purposes only.

IAG neither endorses, nor accepts responsibility for, any material published or relied upon by any analyst from which the figures presented are calculated, nor does it endorse or accept responsibility whatsoever for the views of these or any other analysts reporting on the company. In particular, IAG makes no warranty or representation as to the accuracy of the research, the reasonableness of any assumptions or projections or the likelihood of achieving the figures set out. IAG has not commented on or verified any individual estimates, nor does it intend to do so in the future, and IAG shall not be liable for any errors in the content of the research material, or for any action taken in reliance thereon.

Furthermore, IAG may at any time be in possession of information that may affect the research and has not commented upon, reviewed or updated, and is under no obligation to comment upon, review or update, the research.

Nothing contained herein should be taken as a recommendation to buy or sell shares in IAG or to take or refrain from taking any other action or to place any reliance on any of the information set out on our website. When making an investment decision you should seek the advice of an independent financial adviser.

The consensus figures are calculated using the straight average of the submissions provided on a quarterly basis, and are not altered or adjusted in any way by IAG other than as stated.

It should be noted that estimates are by definition forward looking and as such are speculative and are therefore subject to risks and uncertainties that may materially affect eventual results. Although IAG will endeavour to procure that the figures presented are kept updated in accordance with the methodology set out above, IAG assumes no obligation to update, revise or supplement the figures presented.